Gunakan CHROME dan Bersihkan Cache,History dan Cookies browser terlebih dahulu sebelum Streaming. Dan Tunggu 5 sampai 10 detik untuk loading Player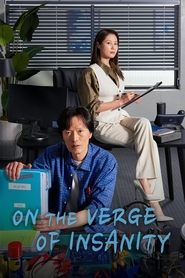 On the Verge of Insanity (2021)
nonton On the Verge of Insanity (2021) sub indo – Choi Ban-Seok yang diperankan oleh Jung Jae-Young adalah seorang insinyur veteran, bekerja sebagai pengembang di divisi elektronik konsumen Hanmyung Electronics. Dia memiliki watak yang tenang dan hati yang hangat. Dia juga memiliki selera humor, tetapi dia menghadapi krisis terbesar dalam 22 tahun karir kerjanya. Untuk menghindari terjebak dalam gelombang pemecatan, ia dipindahkan ke departemen personalia. Dia sama sekali tidak terbiasa dengan departemen personalia. Dia memutuskan untuk bertahan di departemen personalia dan tidak berhenti dari pekerjaan ini.
Dang Ja-Young yang diperankan oleh Moon So-Ri adalah pemimpin departemen personalia. Dia dipromosikan ke posisi itu baru-baru ini. Dia gila kerja dan ingin menjadi eksekutif wanita pertama di perusahaan itu.
Choi Ban-Seok adalah anggota baru departemen personalia. Dia tidak tahu apa yang harus dilakukan dengannya, tetapi hidupnya perlahan berubah dengan bekerja dengannya.